Our mission
The heart of Captivating Skin Health and Wellness is to empower our patients to preserve, or restore and preserve their natural features and the balance of their "inner-outer" beauty.
We do this by offering a broad range of customizable services, including facial and body analysis, goal directed skincare advice and rejuvenation with the latest aesthetic and wellness treatments and techniques.
It is often in our search for beauty and inner happiness that we come to the realization that we already have that which we are so desperately searching for. It is in this realization that we find our true selves. It is in this realization that we grasp that we are worth taking care of.  It is in this realization that we are most happy and content – when we achieve that "inner being-outer person" harmony. There is no one that will deny that inner happiness spills over in outer beauty.  The most beautiful faces are those who radiate inner peace and fulfillment.  That is beauty, and beauty does lie in the eye of the beholder. But, I am yet to come across an individual who is content; fulfilled… happy and at peace, but does not take care of their outer appearance. We all believe in the following statement: inner beauty reflects towards our outside. 
Why then do we question that it can be the other way around? How then can we question the counter argument? If we respect our inner selves, does it not make perfect sense that our outward appearance should follow in that principle? I have an unshakeable belief that, if we treat our bodies with respect, and take care of our outer beauty, there is a definite spillover into our "inner-happiness-well". My aim is not, and will never be, to change you into what you are not: someone else. My aim is to make you cognizant to the beauty that you already possess; to enable you to rejuvenate your strongest features (that you may have long forgotten about,) and to empower you to preserve your inner-outer beauty.
Restored. Rejuvenated. Reawakened…not recreated.
… your best you..
Because You Are Captivating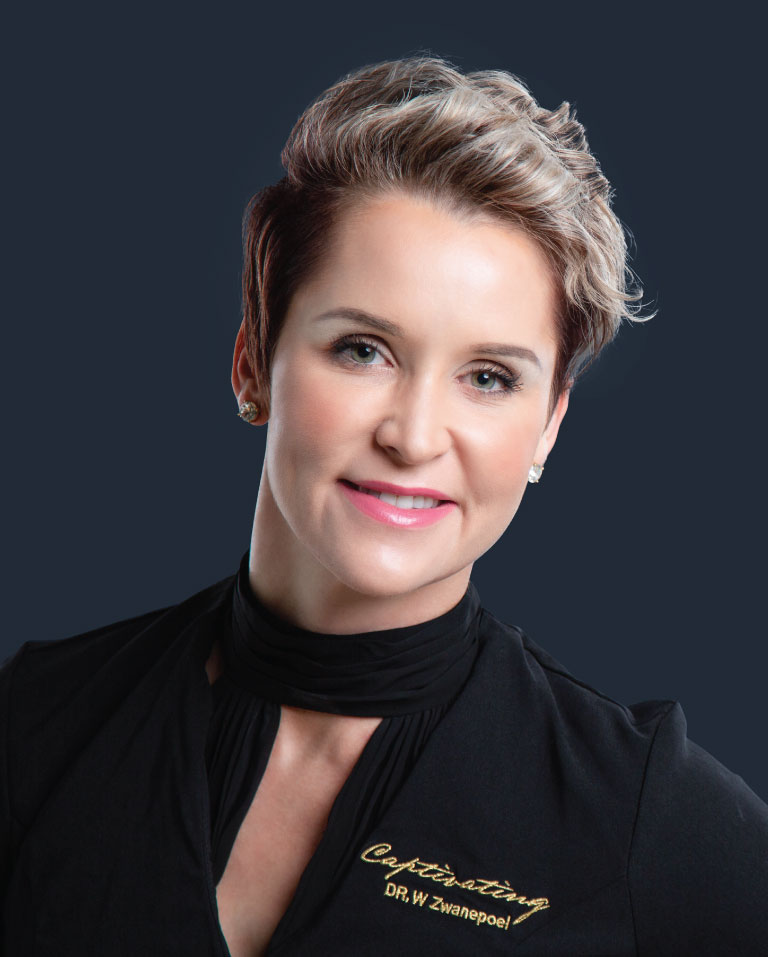 Dr. Wilhene Zwanepoel
MBChB – Specialized Aesthetic Physician
MD, Pretoria Class of 2007

Diploma Dermatology Distinction

Cardiff

Founder, proud owner and sole director

of Captivating Aesthetics Ltd

.

Top 5 user of Sculptra in Canada

My Face My Body award winner 2020

Only non specialist clinic in Canada approved for Morpheus Body

Dr Zwanepoel has always been passionate about a holistic approach to health and wellbeing. Soon after qualifying from medical school in 2007, she started to pursue a career in surgery and cosmetic medicine. In 2013 Dr Zwanepoel and her family moved to Canada, where Captivating was born. Dr Zwanepoel firmly stands by her motto: "knowledge is the power to offer superior results", and to deepen her understanding of skin health, she completed a 2 year Dermatology Diploma with distinction through Cardiff University ( UK). Dr Zwanepoel values the expertise of the top providers in the field of Cosmetic Dermatology and has travelled globally to learn from these providers. With her extensive training in medicine, surgery, dermatology and cosmetic procedures; her unquenchable thirst for knowledge and her undying passion for offering outstanding results, Dr Zwanepoel offers each her patients a customized treatment plan.
Meet The Team
Certified Professionals For A Captivating You